Jatoba, also known as Brazilian Cherry, is a beautiful species with naturally rich color and superior hardness. It's therefore well suited for both residential and commercial applications.  Brazilian Cherry wood darkens from tan or salmon to a deep reddish brown over several months.  Brazilian Cherry flooring also contains darker streaks which give it an exotic expression.
Jatoba:  Brazilian Cherry Uses and Sizes
Brazilian Cherry is available in several (¾" x 2 ¼", 3 ¼", 4" and 5") widths.  The lengths are usually 1'-7' and it is offered in unfinished as well as pre-finished.  However, pre-finished stock is only available in a few widths.  Please call or email today for your free quote.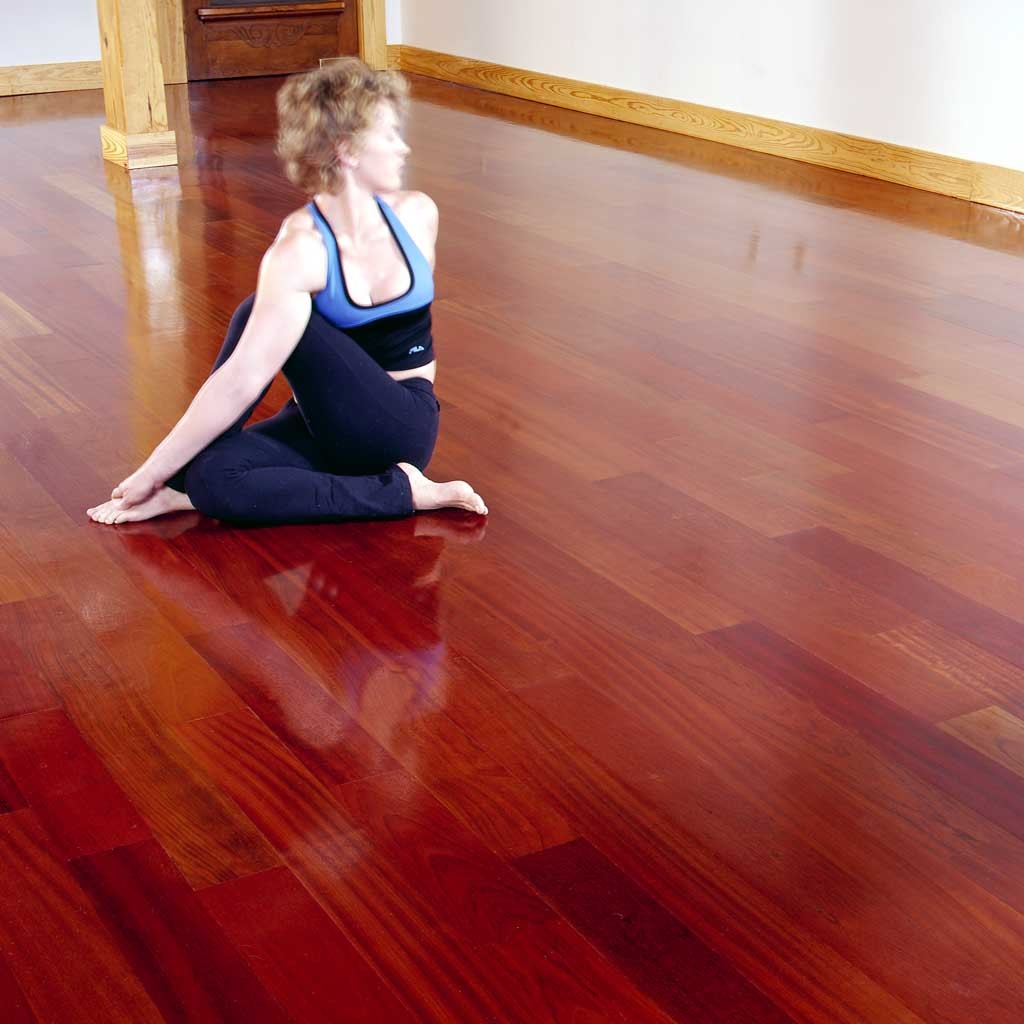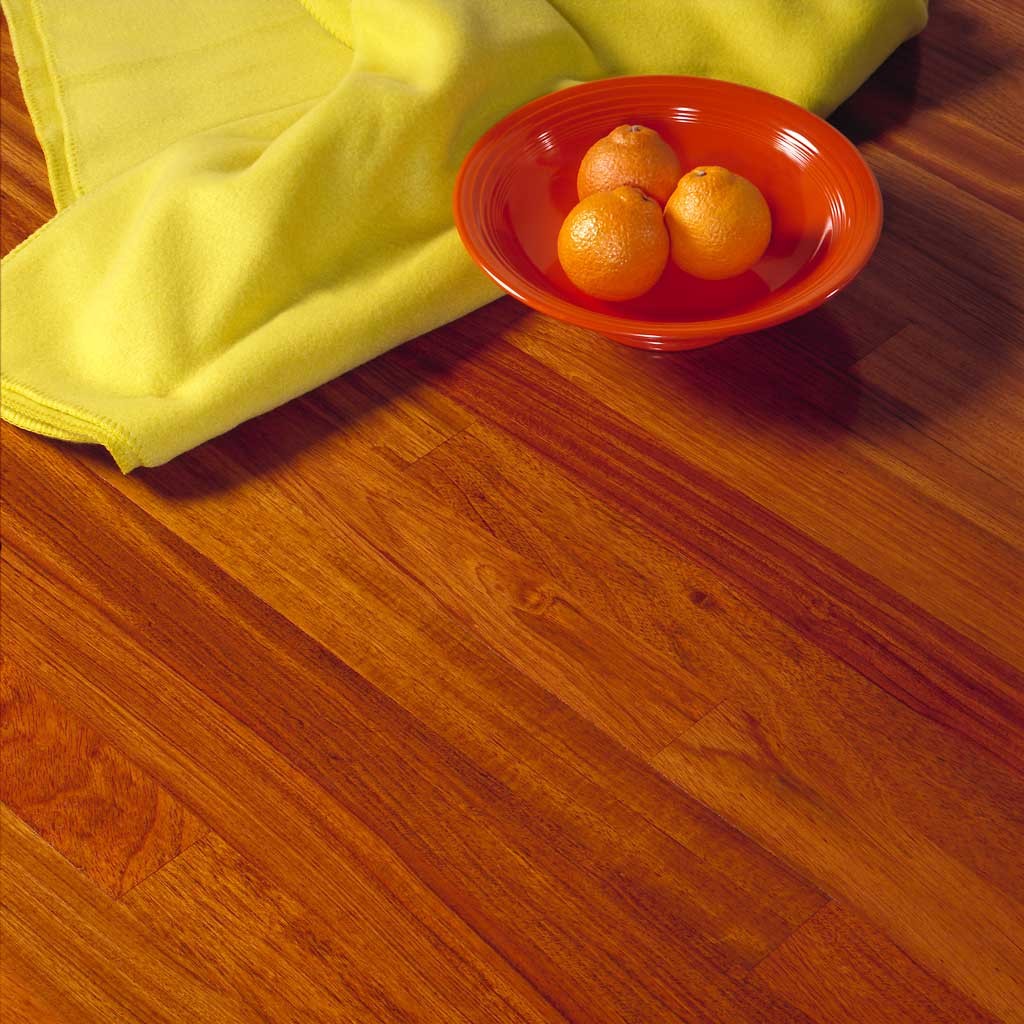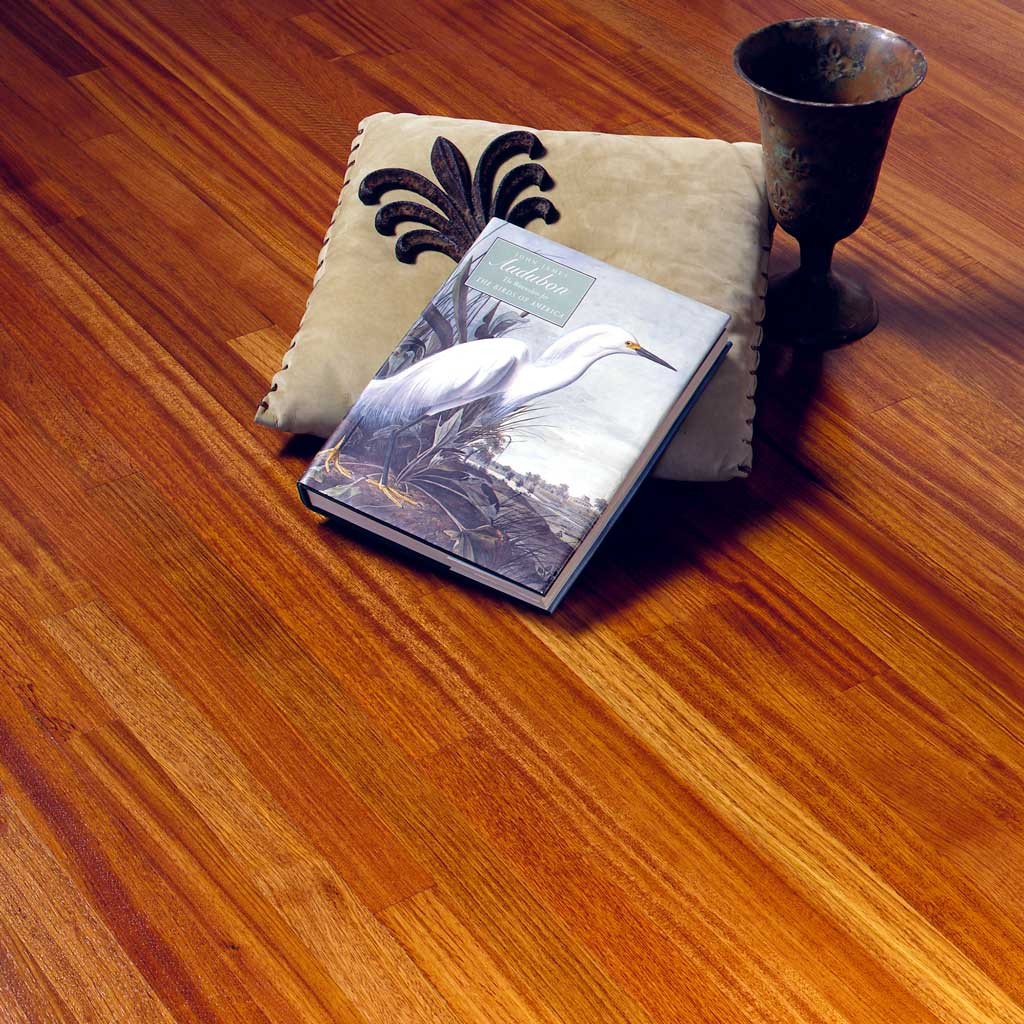 | Pre-Finished | Length | Price |
| --- | --- | --- |
| BRAZILIAN CHERRY 3/4 X 3 1/4 CLR PF NAT. MB4 | 1'-7' | $5.03 |
| BRAZILIAN CHERRY 3/4 X 5 CLR PF NAT. MB4 | 1'-7' | $5.15 |
| Unfinished | Length | Price |
| --- | --- | --- |
| BRAZILIAN CHERRY 3/4 X 2 1/4 CLR AG (In transit 3/14/17) | 1'-7' | $3.35 |
| BRAZILIAN CHERRY 3/4 X 3 1/4 CLEAR AG | 1'-7' | $3.95 |
| BRAZILIAN CHERRY 3/4 X 4 CLR AG | 1'-7' | $3.95 |
| BRAZILIAN CHERRY 3/4 X 5 CLR AG | 1'-7' | $4.20 |
Common Name(s): Jatoba, Brazilian Cherry
Scientific Name: Hymenaea courbaril
Distribution: Central America, southern Mexico, northern South America, and the West Indies
Tree Size: 100 ft (30 m) tall, 2-4 ft (.6-1.2 m) trunk diameter
Average Dried Weight: 62 lbs/ft3 (990 kg/m3)
Basic Specific Gravity: .77
Hardness: 2,820 lbf (12,540 N)
Rupture Strength: 23,430 lbf/in2 (161,600 kPa)
Elastic Strength: 2,717,000 lbf/in2 (18,740 MPa)
Crushing Strength: 11,860 lbf/in2 (81.8 MPa)
Shrinkage: Radial: 4.5%, Tangential: 8.5%, Volumetric: 12.7%, T/R Ratio: 1.9
From: The Wood Database