I visit frequently with my dad. When we visit, and he's about to brace me for something about to cost me money (buying his old cars, etc.), he introduces the proposition with: "Okay. Here's the deal." I don't have any position in the world to complain about this arrangement, and I've become quite used to it. I'm scared to death of the next "deal", because I'm getting to a place in life to have a great many more upcoming "deals."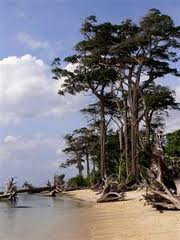 A Burmese, or Andaman Padauk. (Pterocarpus dalbergloides) With a little work, a guitar or two.
That being said, I had an inquiry today about the availability of Padauk. We don't list the product in our price listings, but it is among a great many specialty items like greenheart, teak, and many others we are able to acquire. But here's the deal:
It's available by the bunk. The arrangement is such because furniture manufacturers shop in such a manner for that lumber. Rough widths, rough lengths. Random. That's just how that "deal" goes. So…if you have any interest in about 300 board feet or so of Padauk, I can sure look into it for you.
The African Padauk (Pterocarpus soyanxii) is most widely available here to US woodworkers. The padauks and rosewoods are pretty similar woods in appearance, but the padauks generally have a coarser texture. Eric Meier's Wood Database has much more on the specifics and workability of Padauk, along with many, many other specialty species. It's a great resource.