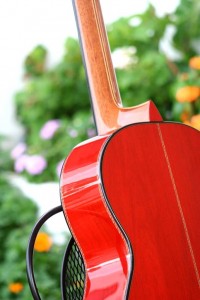 Trade Name: Padauk.
Genus: Pterocarpus soyauxii
Janka Hardness (pounds-force): 1970
Description: It's an odd life when a person finds themselves twice within a year writing about a wood he's never worked. A fascinating wood, this Padauk. For starters, it might show up an orange-red color, but it won't stay that way. Padauk darkens considerably over time to a deeper red, and even purple hue. Padauk's orange tone may be preserved, but special considerations must be taken into account. It is prized by guitarmakers for its deep and resonating tonal qualities.
Location: Central and West tropics of Africa, namely: Angola, Central African Republic, Gabon, Ghana, Nigeria, Cameroon, Congo, Zaire
Common Aliases: Africaans padoek, African padauk, Afrikansches padoik, Akume, Arapka, Barwood, Bois corail, Bois rouge, Gula, M'bio, Red santal, Yomo, Wele, Tizeze, Epein, Barwood, and many other regional variances.
Performance: Overall, very easy to work. Resistant to insect and decay.
Affordability: $$$ Considering the distance the wood has to travel just to arrive in American markets, Padauk is fairly reasonable on the return.
Common Uses: Musical instruments, furnishings, flooring, bridges, cabinets, decks, heavy construction, ground contact, oars, paddles, plywood, veneers, wheels, railroad ties.
From: The Wood Database:
Common Name(s): Padauk, African Padauk
Scientific Name: Pterocarpus soyauxii
Distribution: Central and tropical west Africa
Tree Size:100-130 ft (30-40 m) tall, 2-4 ft (.6-1.2 m) trunk diameter
Average Dried Weight: 46 lbs/ft3 (740 kg/m3)
Basic Specific Gravity: .61
Hardness: 1,970 lbf (8,760 N)
Rupture Strength: 16,830 lbf/in2 (116,030 kPa)
Elastic Strength: 1,700,000 lbf/in2 (11,720 MPa)
Crushing Strength: 8,130 lbf/in2 (56.0 MPa)
Shrinkage: Radial: 3.3%, Tangential: 5.2%, Volumetric: 7.6%, T/R Ratio: 1.6