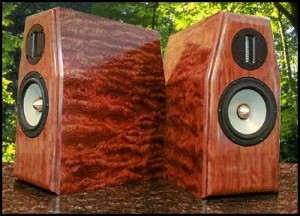 I've been kind of put in a mood to throw together some speakers soon. Salk Sound has the Veracity to assemble in Bubinga seen here. Sharp pieces in their catalogue.
Trade Names: Bubinga.
Kingdom: Plantae
(unranked): Angiosperms
(unranked): Eudicots
(unranked): Rosids
Order: Fabales
Family: Fabaceae
Subfamily: Caesalpinioideae
Tribe: Detarieae
Genus: Guibourtia
Species: demeusei, tessmannii, pellegriniana, and others.
Janka Hardness (pounds-force): 2610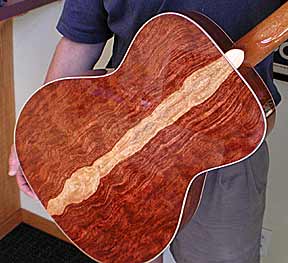 Jeff Robertson of Allied Lutherie seems to have the ability to put together a mean guitar. A nice catalogue of items like the one pictured here, from one of the irregular bubingas.
Description: Heartwood coloration is all over the place, from pinkish red to deeper red-browns, with sapwood of a very pale color. See guitar below. It's texture is fine, with interlocked grain. Bubingas can be highly figured and quite irregular.
Location: Africa, specifically the tropical regions of Angola, Camerooon, Congo, Equatorial Guinea, Ghana, Nigeria, Zaire.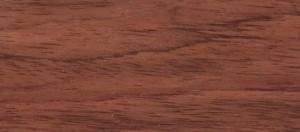 A pretty tight shot of one of many variations of Bubinga from the Wood Explorer database.
Common Aliases: Essingang, Kevazingo, Ovang, Waka, Akume, Buvenga, Eban, Ebana, Kasasesase, Lianu, Lusase, Okweni, Ovang, Waku, Irun nduk, Kevazingo, Milne. ***We will deal with African Rosewood separately, though it is sometimes referred to as Bubinga. The two woods share Genus, and we consider them different products altogether.
Performance: Varies somewhat among the various species, but generally is a durable hardwood. Generally easy to work. Tearout can occur, and gluing can be difficult due to the oil content of the stock. Bubinga will stink when it's wet, but that smell can go away with dried or finished samples. Bubinga has an excellent strength to weight ratio, and is among the most uniquely figured hardwoods. Very versatile for many reasons.
Affordability: $$$ Still a relatively good investment grade lumber, considering the source and distance travelled to arrive to US markets.
Common Uses: Guitars, speakers, audio equipment, boats, cabinetry, furnishings, moldings, millwork, turnings, veneers, hatracks.
From: The Wood Database:
Common Name(s): Bubinga
Scientific Name: Guibourtia spp. (G. demeusei, G. pellegriniana, G. tessmannii, etc.)
Distribution: Equatorial Africa
Tree Size: 130-150 ft (40-45 m) tall, 3-6 ft (1-2 m) trunk diameter
Average Dried Weight: 58 lbs/ft3 (925 kg/m3)
Basic Specific Gravity: .72
Hardness: 2,610 lbf (11,610 N)
Rupture Strength: 25,100 lbf/in2 (173,100 kPa)
Elastic Strength: 2,717,000 lbf/in2 (18,740 MPa)
Crushing Strength: 11,030 lbf/in2 (76.1 MPa)
Shrinkage: Radial: 5.8%, Tangential: 8.4%, Volumetric: 13.0%, T/R Ratio: 1.4