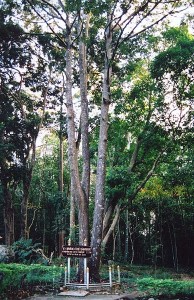 A stately Shorea roxburghii, planted by King Bhumiphol of Thailand, now blatantly stolen from Wikipedia.
Trade Name: Balau.
Scientific Classification:
Kingdom: Plantae
(unranked): Angiosperms
(unranked): Eudicots
(unranked): Rosids
Order: Malvales
Family: Dipterocarpaceae
Subfamily: Dipterocarpoideae
Genus: Shorea
Species: Many similar referenced here
Janka Hardness (pounds-force): 1560
Description: Balau, broadly speaking, refers to any number of woods of the Shorea genus. The coloration can vary greatly from species to species, and a great number are marketed as Balau. It is versatile, hard (while relatively easy to work), and for any number of reasons is the most widely used wood in a densely populated corner of the earth. Coarsely textured with medium or large pores. Grain is variable. Coloring ranges from very pale to a deep red-brown.
Location: Malay peninsula, Indochina, Indonesia, the Philippines. Densely grows in the forests of Borneo, Sumatra, and Malaysia.
Common Aliases: Balau, Membatu, Red balau, Red selangan batu, Red batu, Balau merah, Guijo, Lauan, Meranti***(It needs to be noted here that Meranti is not a proper name for Balau, but that Balau is a subgrouping of the Meranti, or Lauan wood group. The five main Merantis are: Light Red Meranti, Dark Red Meranti, White Meranti, Yellow Meranti, and Balau.)
Performance: Does about anything you might need it to do, though its density might make it somewhat tough on tools and a little difficult to work. Balau is an interior wood only, as it is vulnerable to insect attack.
Affordability: $$ Balau is a very popular and widely used lumber, especially in southeast Asia, where it is the most largely used regional timber.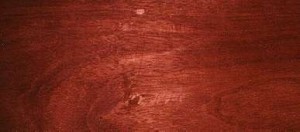 A nice photo of Shorea plagata, a nice looking Red balau.
Common Uses: Baskets, Building materials, cabinetry, furnishings, veneers, flooring, interior millwork, lauan, plywood.
From: The Wood Database:
Common Name(s): Balau
Scientific Name: Shorea spp.
Distribution: Southeast Asia
Tree Size: 150-200 ft (45-60 m) tall, 3-6 ft (1-2 m) trunk diameter
Average Dried Weight: 53 lbs/ft3 (845 kg/m3)
Basic Specific Gravity: .62
Hardness: 1,560 lbf (6,940 N)
Rupture Strength: 18,400 lbf/in2 (126,900 kPa)
Elastic Strength: 2,560,000 lbf/in2 (17,660 MPa)
Crushing Strength: 10,000 lbf/in2 (69.0 MPa)
Shrinkage: Radial: 6.2%, Tangential: 11.4%, Volumetric: 17.6%, T/R Ratio: 1.8