Ipe Decking, Ipe Siding and other Specialty Hardwoods, Domestic Deals
Specialty Lumber Solutions has the species you need at the price you want.  We source Ipe, Cumaru, Tigerwod and others nationwide, and pass the savings on to you.  Our Viking Clip and our new VC2 No-Batten Rain Screen siding systems are the highest quality and best value on the market today.
Ipe Decking, Siding and more
Ipe Decking and all the accessories you will need to complete any deck project are just the beginning of what we can supply you with at Specialty Lumber Solutions.  We offer Ipe decking in the usual dimensions such as 1×4, 1×6, 5/4×4, 5/4×6 as well as larger dimensional lumber from 2×4 to 2×12.  If you are needing Ipe in larger timbers, no problem for us to source 6×6 to 4×12  timbers and beams.  Call or inquire today for a free custom quote on your Ipe project.
We also offer some of the most competitive rates for Ipe Rain Screen Siding using the Viking Clip System for a face fastener free installation.  We can also customize your Ipe siding and paneling to almost any custom profile you choose or traditional T&G and ship lap profiles.
Cumaru Decking, Siding
Decking with Cumaru is an excellent alternative to ipe decking if you are looking for the same durable exterior qualities and stunning color at an even more economical price tag.  Cumaru can also be milled to Rain Screen Siding, T&G or Ship lap siding.
Massaranduba, Tiger Wood, Garapa, Teak, Sapele and other Tropicals
There are so many wonderful and durable species we can offer!  As brokers that specialize in job lot quantities and up to semi loads, we have access to millions of board feet of material from the largest importers in the United States.
| Trade Name | Scientific Name | Other Trade Names |
| --- | --- | --- |
| Afrormosia | Pericopsis elat | African Teak, Kokrodua, Assamela |
| Aniegre | Aningeria spp. | Anegre |
| Beli | Paraberlinia bifoliolata | Zebrawood (substitute) |
| Bloodwood | Brosinum spp. | Muiratinga |
| Bubinga | Guibourtia spp. | African Rosewood, Kevazinga |
| Cumaru | Dipteryx odorata | Brazilian Teak, Southern Chestnut |
| Eucalyptus Grandis | Eucalyptus Grandis | Red Grandis |
| European Beech | Fagus sylvatica | Beech wood |
| Ipe | Tabebuia Spp. | Brazlian Walnut, La Pacho |
| Iroko | Chlorophora excelsa | African Teak |
| Jatoba | Hymenaea courbaril | Brazilian Cherry |
| Lacewood | Roupala brasiliensis | Leopardwood, Loura |
| Mahogany - African Mahogany | Khaya ivorensis | Khaya |
| | | |
Let Specialty Lumber Solutions be your source for high quality Massaranduba, Sapele, Teak, and so much more.  If it isn't listed on our pricing page, please give us a call!  We'll be glad to help you find the species you need at the price you want.
Featured Products
Inspiration, News and Tips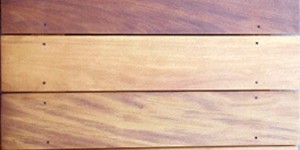 Choosing the Perfect Look: I get many questions about finish solutions for a newly installed product. Just today I fielded an inquiry about how to seal up and enhance the looks of a fire es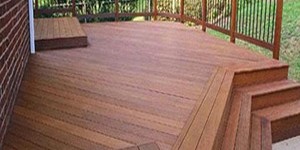 Environmental Issues: Often, lumber imports are blamed for many of the environmental issues facing our world today.  However, over 94% of rain forest degradation is due to the agricultural